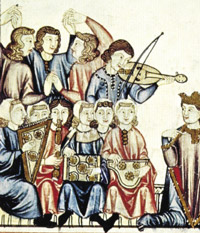 Mu Phi Epsilon Concert Series
Dallas Recorder Society
Sunday, March 10, 2013, 3:00 p.m.
Dallas Public Library
J. Erik Jonsson Central Library Auditorium
1515 Young St
Dallas, Texas
Affiliated with the American Recorder Society, the Dallas Recorder Society promotes early music and recorder playing. Its director is Jennifer Carpenter. The group will perform an afternoon concert and will be joined by the Viola da Gamba Society, Rio Brazos Ensemble and Cornell Kinderknecht.
Admission is free.
Visit the Dallas Public Library website for directions: http://www.dallaslibrary.org
---


The 2013 Summer Texas Toot
June 2 - 8, 2013, Concordia University, Austin, TX USA

The 2013 Summer Texas Toot is a one-week program of classes in Medieval, Renaissance, and Baroque music at all levels. Participants are welcome to participate in classes for recorder, reeds, brass, viols, harp, lute, and voice.

Faculty includes Saskia Coolen, Mary Springfels, Becky Baxter, Tom Zajac, Robert Weimken, Peter Maund and Daniel Johnson.

Visit the Texas Toot website at http://www.toot.org
---
---
Got some news? Go to our Contact page and let us know. Got an event to tell us about? Suggest an event. Got an organization or Early Music link to tell us about? Suggest a link.